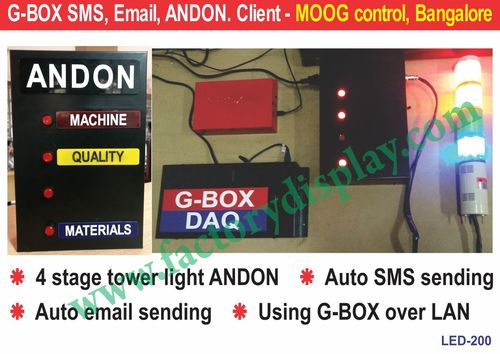 Product Description
Andon Board
An Andon Board is a visual production control device which can continuously show the changing status of a production line. You may also commonly hear an Andon board referred to as a Process Display board, Bingo Board, Factory Display, Lean Manufacturing Board, LED annunciate, Electronic Message Center or Process Control Board.
Cable Pull Switches:
Cable pull switches are used by Machine or Production Line workers to alert their supervisors of Quality or Manufacturing issues during the Assembly Process. Typically a first pull will sound an alarm, generate a message on the plant display system, and provide local visual indication of a pulled switch. A cable pull switchsecond pull typically stops the production line until the problem is corrected. Reset switches are also often included.
Alarm Alert System

Music Alert System are used to provide an audible alert of a problem in the manufacturing process. Typically when an operator becomes aware of a Quality or Manufacturing problem he sounds an alarm to the Andon System, the Andon System can then play a short tune of several notes to alert the Managers or Maintenance staff of what type of tune and where the problem exists. A cross reference of tunes to production areas is made available to the appropriate staff although our experience shows that the tunes associated with a particular area are quickly learned by the Management and Support personnel. Several hundred tunes can be programmed into the system and one Music board can drive multiple speakers to cover a wide area of the plant.