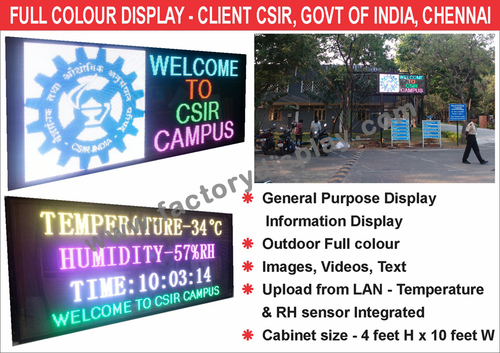 Product Description
We are a reliable name in sourcing and supplying highly quality LED Display Board. Designed and manufactured in accordance with the changing trends and technological advancement, our range is known for effectively meeting the business promotion demands of varied industries. Further, the video playback options of these displays allow playing various video signals, switching to different video sources at any time, zooming in and zooming out of the picture or video cut operation.
Product Description
Color : Three (Tri Color) or Full Color
Connectivity : Ethernet (TCP/IP)
Optional Connectivity : Wireless , Bluetooth , RS485 , RS232
Cabinet : MS cabinet or Aluminium Frame
Size: Custom size
We provide customization as per your requirement.

It is also search by name: Three And Full Color LED Board , Three Color LED Display Board , Tri Color LED Display Board , Full Color LED Display Board , Multi Color LED Display Board , Full Color Scrolling Display , Moving Message Display , Industrial LED Display , Outdoor LED DisplayÂ