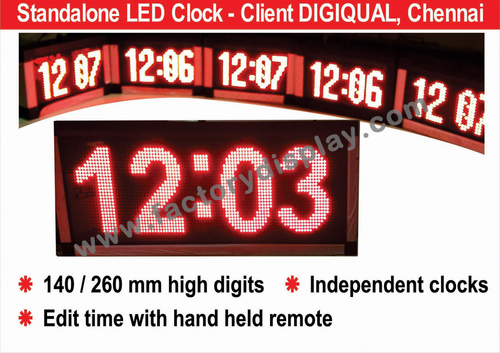 LED Lan Clock
Product Code : 81
Product Description
LED Lan Clock
LAN clock can be connected to your LAN. Install PC software. PC sends its time to all connected LAN clocks.
Clocks can have Either LAN or SERIAL (RS232 / RS485) interface.
Communication cables are not part of Clock supply.
All clocks works on 230V AC mains ( 110V clocks can be quoted for separately)
All clocks display in Single colour. The Default supply is always in RED colour. Other colours on request at extra cost.
RED colour Brightness is good for viewing both indoors and outdoors.
For outdoor clocks cost increases by 18% on base price.
Mounting provision option #1 Top eye bolts you can hang it from ceiling. Option # 2 Side clamps you can bolt it to your supports.